About Us
PeopleTree Education Society makes education an active and participatory learning. Other than the University curriculum, our study modules will contribute towards students' intellectual, practical and ethical preparation for life in a complex, highly competitive and fast changing world.
Messages From Our Leaders
Prof. Anil Kanaganni
As we step into PTeS, filled with hope and dreams of scaling new heights with the holistic development of individuals to serve the society.The purpose of education is to teach our students to think and develop the capacity to reason out facts.
With experienced and dedicated teachers and other learning resources PTeS helps students… to realize their goals in life.
The institute is running market oriented professional courses like BBA, BCA, B.Com, Hotel management & event management.
At PTeS, students are exposed to globally benchmarked set of teaching pedagogies which impact holistic education through bridge courses imparted during the induction program, guest lectures, brainstorming sessions presentations, case studies, role play, workshops, seminars, research projects, educational excursions and also by participating &organizing in house and intercollegiate competitions.
We equip and empower students to realize their dreams effectively and make their mark on the global landscape by unleashing their potential in a balanced manner through competence enhancement and enduring moral values.
We focus on 'Education 4.0' as our vision for the future education, which responds to needs of 'Industry 4.0'. Thus aiming at learning through digital technologies, connecting globally, skill based, and continuous learning for all students seeking career opportunities. Ptes is equipped with latest technology in order to face challenges in the real world.
PTeS is one stop destination.It is the right place to discover your potential & excel. Be a part of this revolution and our partner in excellence. Read more "Prof. Anil Kanaganni"
Message from the Principal
GC Winners at Government 1st Grade BBA College, Raibag 2014-15
GC Winners at GIT MCA College,Belagavi 2016-17
GC Winners at Sridora Caculo College of Commerce & Management Studies,Goa 2015
GC Winners at D.M.S Mandal's College of Business Administration, Belagavi 2014-15
GC Winners at Bhartesh BBA College,Belgavi 2017-18
GC Winners at Bhartesh BCA College,Belgavi 2016-17
GC Winners at KLES BCA College,Belagavi 2014-15
GC Winners at Vijayanagar BBM College, Hospet 2014-15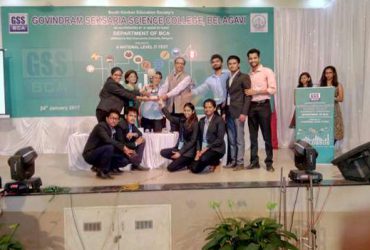 GC Winners at GSS BCA College,Belagavi 2016-17
PTEs is not just an institution but it's more than that. I really feel proud to say that I learned and passed out from this prestigious institution. PTeS IHM always fulfills students' dreams….
(IHM Batch 2019-2020)
PTEs Means Growing Intellects Yes, it's True and these words prove it. PTEs is a college of "Knowledge box", We have an Excellent course curriculum and Faculty members. Our lecturers hold a Strong….
(IHM Batch 2019-2020)
PTEs is not just another institution but its a brand. I am really honored that I learned and passed out from this amazing institution. PTEs always pampers students dream and take initiative to archive the same.
(BCA-Batch 2015-2019)
Hello Everyone I go completely speechless when it comes to saying something about PTES. I can write an entire book if I am asked to list the differences between me THEN and me NOW. I am afraid…
( BBA-Batch 2014-2017)
My experience in college has given me a chance to sharpen my skills in my field of choice. There have been, and there will continue to be, many opportunities to learn more ways of improving oneself…
(BBA-Batch 2014-2017)
Hello Everyone Although, there's a lot I could pen down, but words wouldn't express all of it when it's about PTES. I joined the institute four years ago and nothing seems the same now. The journey…
(BBA--Batch 2014-2017)
I am so much excited and it gives me immense pleasure to tell my success story which only got possible with the help of PTES. Actually the funny thing was how I got admitted in PeopleTree college…
(BCA-Batch 2010 -2011)
I saw add and visited PeopleTree. I felt like joining because the course was explained to me in a best possible professional way. I liked the communication training which PeopleTree gave in the first year…
(BCA-Batch 2012 -2013)
I got to know about PTES through one of my friends,Vinit who had joined the college. He suggested that I join the college, as it was the only college which was admitting students without donation…
(BCA-Batch 2012-2013)
An Investment in Knowledge Always Pays the Best Interest
Peopletree Education Society
Plot No.10588/1,2,3 Behind Hotel Ramdev, Nehru Nagar, Belgaum, Karnataka 590010.
Phone Number: 9620271868
9901181300
0831-4215528